Restaurant CHO is an Asian brasserie located in the heart of St-Henri, Montréal. The name CHO, which means "butterfly" in Japanese, was chosen to represent the eatery as a symbol of transformation - turning basic Asian dishes into decadent creations using classic French cooking techniques.

ROYALTRI helped with the design of CHO's visual identity. In an East Asian context, official seals known as "chops" are used in lieu of signatures, or are stamped on goods to indicate quality. For CHO's unique brand design, a butterfly replaces the traditional scripture characters and the colours of the French flag represent the urban eatery's style of cuisine.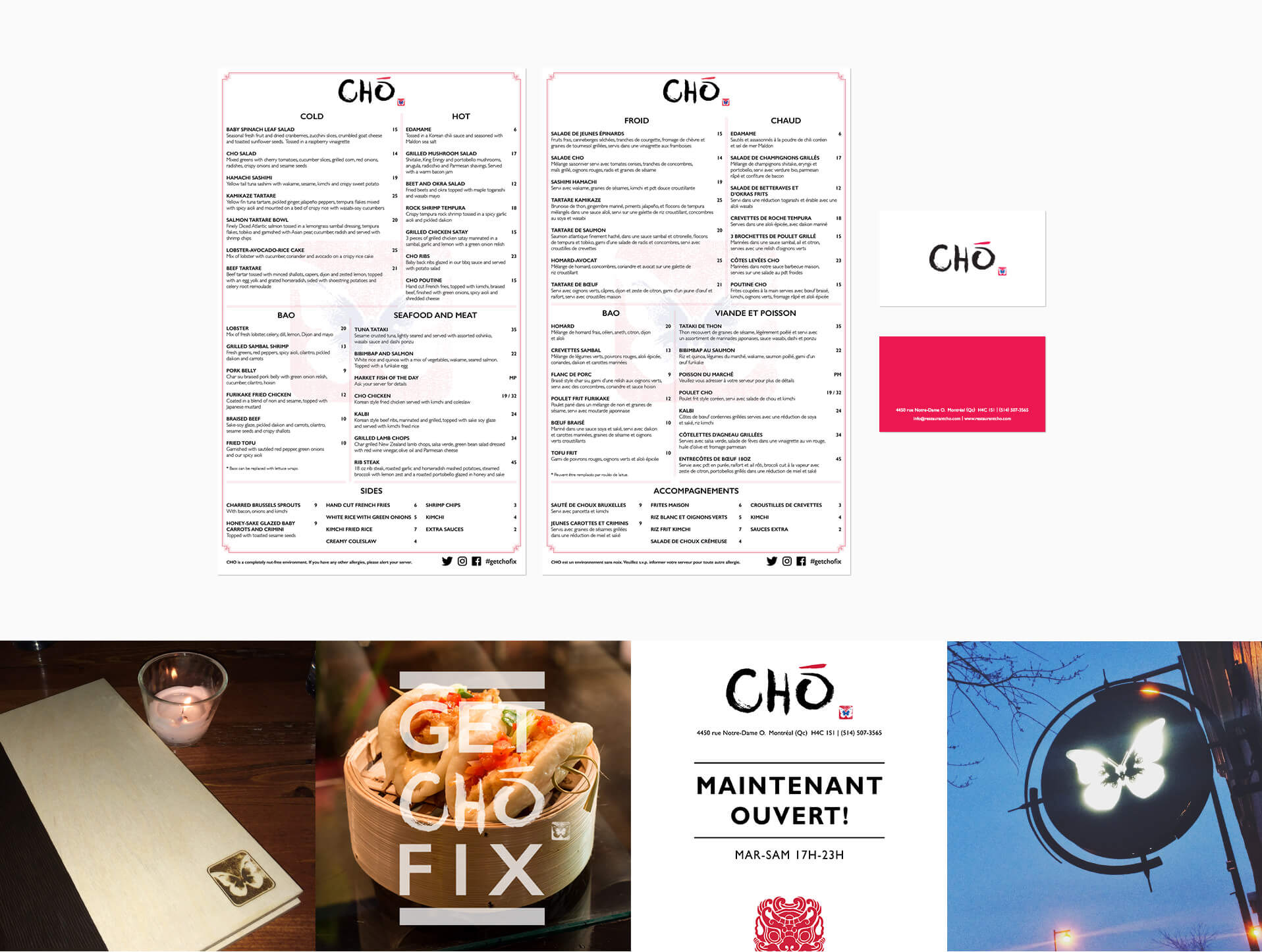 Business cards, gift certificates, flyers, menus and storefront signage were also designed to provide comprehensive and recognizable brand differentiation.

ROYALTRI customized a SquareSpace template to match CHO's new brand identity and to make the site bilingual. OpenTable was integrated to facilitate reservations. A WordPress theme was also customized for CHO's franchise concept - CHO Express. All photos were taken in-house by Alison Slattery. Both websites are bilingual, fully cross-browser compatible, mobile-responsive and optimized for SEO.
ROYALTRI also helped set-up all of CHO's social media accounts - Facebook, Instagram, Twitter, Foursquare/Swarm, Google My Business, Urbanspoon and Yelp - and provided community management strategies for a period of three months to identify the social media behaviour of CHO's followers' and to advise on best practices. Within two months, CHO's Facebook campaign achieved a post reach of 18.3K and 4.7K engagement.
Websites: www.restaurantcho.com & www.choexpress.com